A COLLABORATIVE APPROACH TO PLANNING & CONSTRUCTION
In early 2014, Monarch Construction Company began its Lean Transformation through extensive research and study related to Lean principles and theories already prevalent throughout the manufacturing industry. After a great deal of learning it was determined that the application of Lean principles and theories, and specifically the implementation of the Last Planner System would enable our Project Teams to deliver completed projects SAFER, FASTER, and BETTER than previously experienced. This resulted in a companywide mandate that all new projects will be managed using the Last Planner System from project inception to project completion.
Monarch uses Lean tools in a Plan-Do-Check-Adjust manner that transforms our project stakeholders into a Rapid Process Improvement Team.
The Last Planner System is a continuous process that starts at the beginning of the project and concludes when the contract is complete. Monarch encourages the involvement of the Owners and Designers in this process as it gives all project stakeholders a clear picture of the interdependency upon each other's commitments.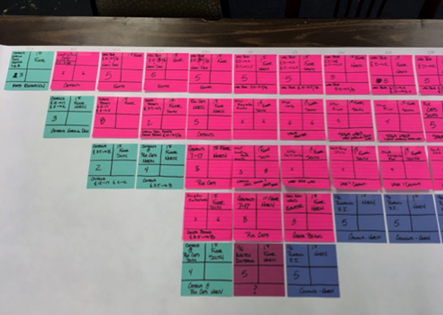 Today, our projects that successfully implement the Last Planner System deliver much more value to Owners through dramatic reductions in worker injuries, project durations, and project costs. Our collaborative approach to project scheduling and production planning optimizes the performance of the entire construction team resulting in an unmatched level of schedule reliability.
Pull Plan Session